The golden rule for Amazon logistics that drive sales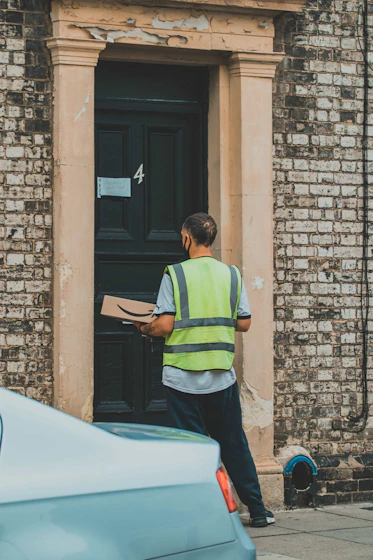 Amazon is preparing its Sweden launch in full, and by all accounts this will take place in the autumn of 2020. Below, we go through practical tips on how you can make efficient logistics management one of your sharpest competitive advantages.
‍
Logistics is a must for the American e-commerce giant, and an important key to its own success. Through streamlining, Amazon has created a huge sales machine that in 2018 accounted for almost half of the US e-commerce, and about 5% of all retail in the country.

It is therefore no surprise that the platform puts very strong pressure on its third-party vendors' processes. First, we will go through the two main options for logistics, and then immerse ourselves in concrete steps on how to optimize your handling:

Two options

The first choice you as a seller have to decide is whether you want to be responsible for the handling (Fulfillment by Merchant, FBM) or want Amazon to receive, stock and send out your products (Fulfillment by Amazon, FBA). In the latter case, the goods are sent directly from the manufacturer to Amazon's warehouse, or Fulfillment Center. From there, packaging and delivery to the end customer is handled, returns are received and checked, and any replacement goods are sent out.

Being responsible for managing the logistics chain is the cheaper alternative. But as we will see further down, FBM pays off largely only when:

1. The demand is very high, at very short notice, and for a limited period. For example, around Christmas if an item sells unexpectedly well. It may then be worth investigating a dropshipping model.

2. The product is very niched. If so, it does not compete as hard for the buyer's attention, and the benefits of FBA will then be relatively small.

In all other cases, Fulfillment by Amazon is the option that is predominantly preferred by other sellers. Depending on the market, 66-75% of these choose FBA as a logistics alternative due to the competitive advantages of the method:
1. Not being responsible for the logistics saves the seller both time and money. Admittedly, there are a number of fees for using the service, but

2. FBA products qualify for the Prime terms, which means that the buyer gets the same benefits in terms of delivery time, returns, etc. In turn, the extra security means that the buyer is often willing to pay 5-10% more for the same item.

3. In addition, Prime products spend more time in the "Buy box", i.e. the buy box that appears next to a search result when there is more than one seller for the same item.

The costs for warehousing, packaging and forwarding are therefore often overwhelmingly offset by reduced own costs and both higher sales price and volume. But unfortunately, not everything is great in the Amazon FBA's world. In the same way that its own business is run with a focus on efficiency, the platform is relentless with its sales people when it comes to the two key aspects of its success: quality and availability. Practical tips:

1. Quality

The quality of the products affects both your reviews, which in turn affect the purchase volume, and the number of returns, which can quickly affect the profitability calculation, as the cost of returns is charged to the seller. To minimize the quality risk, you should:

First and foremost, do solid research on your supplier. Of course, it is also possible to request samples.

Have a professional quality control company inspect your goods after manufacture and before leaving the factory, especially in the case where the goods are delivered directly to the Amazon Fulfillment Center.

With Treyd, you can easily and safely book a quality check. It is performed by our trusted third party, and you will receive a detailed report for approval before accepting your order.

Opt out of commingling, which otherwise mixes identical products from multiple third-party vendors into a common inventory group for higher efficiency. If your own products are reviewed for quality as above, but not other sellers', you risk suffering bad product reviews despite your own actions.

If any of your products are returned after all, it will be sorted by Amazon employees as either salable or non-salable. In the first case they are returned to your warehouse, in the second it is usually discarded. But you can actually request it at a cost, and in both cases it may pay to do your own inspection. If it shows that the product is in perfect condition, you save both money and make an effort for the environment by returning it to the warehouse for sale, and you also avoid having a product returned that does not meet your own standards.

2. Availability

That an item runs out of stock is a nightmare scenario for several reasons. Not only does Amazon penalize you as a seller with sharply reduced rankings, and potential suspension from the platform itself, competitors also gain an advantage because their products are sold in your place, which also raises their own sales rank. To always have enough goods in stock is therefore an absolute necessity:

Use an inventory management program. Amazon has its own built-in tools that can be used at no extra cost, and there are a variety of independent, commercial options such as Sellbrite, Orderhive, etc.

Form a good understanding of how quickly your inventory is traded and how this varies during the year, to minimize inventory costs. Equipment that is stored by Amazon for longer than 6 months is charged with extra fees.

The golden rule is to always plan orders two to three months in advance based on your estimated demand. This way, you always make sure you have goods in place, fend off for unforeseen events and give plenty of time for Amazon to receive and prepare your products for sale. Although this is a necessity for a successful FBA strategy, it is also the biggest disadvantage of the alternative, as it is very liquidity-intensive.

Treyd lets you order now – and defer payment for up to 4 months. Avoid tying up capital in inventory, avoiding liquidity stress, and free up money for your growth!

Take advantage of the opportunity to request returned items and return them to your warehouse. If you have ensured the quality control after production, the chance increases that you save money – and delivery times.

That way, you make sure to optimize your logistics flows, and get the most out of FBA as an alternative without it costing you more.

Selling on Amazon can be a great way to reach new customers. But it places strict demands on logistics, among other things. Do you want to know more about how we can drive your sales, and how our solutions can make a difference for your Amazon store?

Book a short conversation with us or read more about how Treyd works.